Product Handling Concepts designs solutions to streamline operations
Moving materials and products from point A to point B is not as simple as it sounds in many manufacturing facilities. There are walls to contend with, weight-bearing supports to navigate, and other logistical challenges that make custom conveyor systems a requirement as opposed to a luxury.
Product Handling Concepts (PHC), a division of Robinson, works with customers in a wide range of industries to develop custom conveyor systems that maximize production efficiencies and leverage workforce capabilities. Our engineers work with progressive companies across diverse markets such as cannabis processors, hand sanitizer packagers, bottle fillers, wet wipe packagers and food processors looking to get the most out of their product handling systems.
Custom conveying systems are a significant aspect of the product handling cycle in that they create opportunities for companies to streamline operations while minimizing injuries. We build automated systems that work alongside your employees and enhance the amount of work that can be accomplished.
Custom conveyor systems lead to increased production capabilities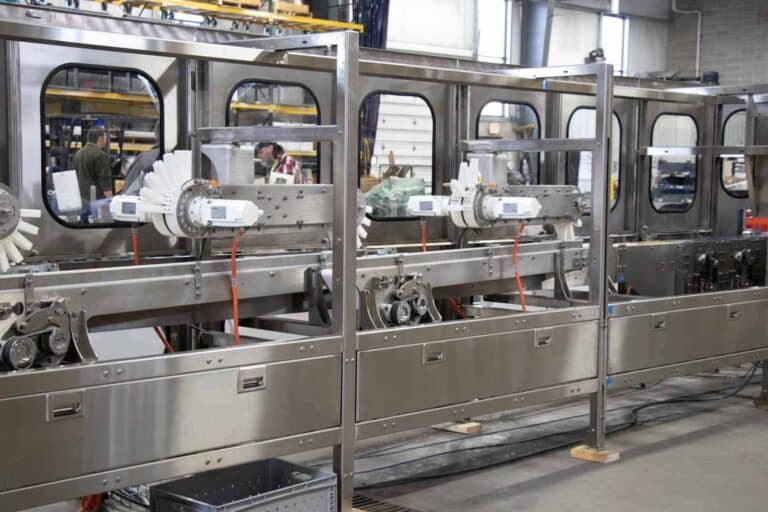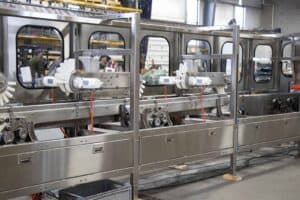 Motor driven rollers (MDR), Servo Sweep Laner systems and other technologies deliver product handling solutions that supplement our custom conveyors and free up your employees to perform more skilled tasks.
MDR systems provide accumulation control as part of a custom conveyor system. MDR conveyors feature zones of idle rollers that are connected to a driving roller that has a gearbox and motor within its body. This allows the system to run on demand with zero pressure accumulation.
The Servo Sweep Laner is a popular addition to custom conveyor systems for nonwoven wet-wipes. The technology removes the common gate mechanism from the product stream balancing process and replaces it with overhead sweeps. This effectively guides the clip of wipes into a particular lane at the same high speed the product is moving through the system.
About Robinson Metal, Inc.
Robinson Metal, Inc., is a single-source metal fabrication supplier employing more than 400 people at facilities in De Pere and Manitowoc, Wisconsin. Its six divisions include: Robinson Fab & Machine; Robinson Pipe & Vessel; Robinson Custom Enclosures; Robinson Heating & Cooling; Product Handling Concepts; and Gas Trailer. The company's three locations comprise 500,000 square feet of manufacturing space.
For more information about Product Handling Concepts capabilities, call Jim Livermore at (920) 615-3655, or visit http://robinsonmetal.com/.
Tags: custom roller conveyor, industrial conveyor systems