Robinson's product handling team provides modular conveyor specialization
Robinson's modular conveyors are the multitool of product handling systems. The flexibility of design options enables seamless production line integration that provides cost-effective solutions for short-term and long-term challenges.
Our modular conveyor capabilities range from individual components such as belts and rollers through custom product handling solutions that offer portable options in your plant. Modular conveyors can help support peak production capacities and are especially useful in tight manufacturing spaces, navigating facility obstructions, and enhancing current line layouts.
Robinson's product handling engineers can integrate a modular conveyor into your existing line, synchronizing the system so product flows smoothly without unexpected backups. They are useful in supporting production lines that see varying throughput demands, giving producers added flexibility to maximize profits.
Modular conveyors answer accumulation issues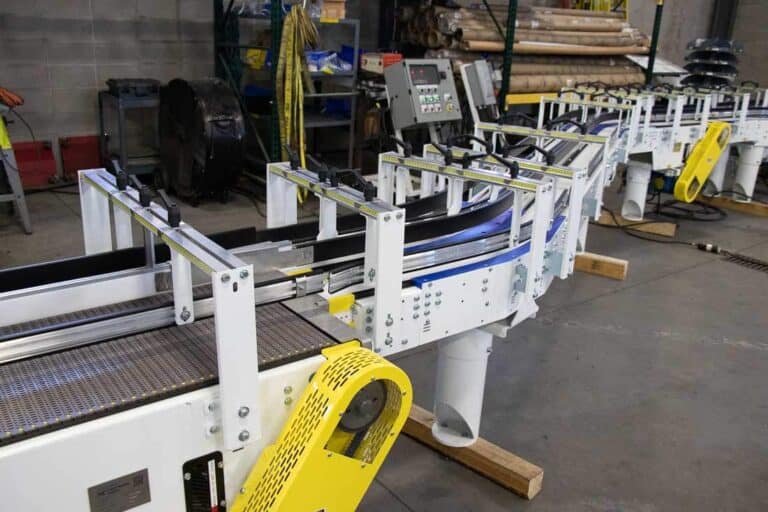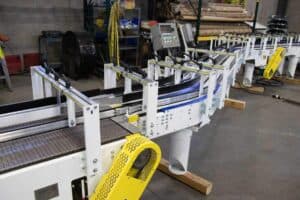 Capturing accumulated product as well as rejected units are popular tasks within the product handling space. Robinson integrates modular conveyor systems that divert products into accumulation areas when downstream processes cause a backup. The system pulls products from a staging area when appropriate and keeps the line running smoothly.
Robinson's lane diverter technology supports modular conveyor systems used in accumulator applications. Incorporating controls and automation improves efficiency, worker safety and overall production efficiency. Robinson lane diverter systems simply help control and redirect aspects of production lines.
Some of our customers also use a modular conveyor to capture rejected units in an efficient manner. Rather than disposing of the product, they use a modular lane diverter to send them to a separate holding area for further review or correction. The result is a more efficient production line and reduced waste. A modular conveyor strategy can provide solutions for your production floor challenges.
About Robinson, Inc.
Robinson, Inc., is a single-source metal solutions provider based in De Pere, Wisconsin. Robinson offers manufacturing and design expertise in fabrication and machine; pipe and vessel; custom enclosures; product handling; and portable fuel solutions. The company employs more than 500 people at three locations comprising 500,000 square feet of manufacturing space.
For more information about Robinson's capabilities or to request a quote, please call (920) 494-7411, or visit https://www.robinsoninc.com.
Tags: modular conveyor belts