By Nick Lauer
nlauer@thebusinessnewsonline.com
With six divisions, De Pere-based company is a do-it-all manufacturer
We live in an age where convenience is king and some of the most successful businesses are the ones that fulfill this need for its customers. This is particularly true in the manufacturing world.
Therefore, it's no surprise that Robinson Metal Inc. prides itself on offering a wide array of  services all under one roof.
While the De Pere-based company is now a one- stop shop for manufacturing, the company did not begin that way.
"Robinson was started in 1975. It started as heating and cooling, roofing and then fabrication," said Robinson Metal operations manager Sam Thomas. "Then, in 2000 Darrel LaCrosse and Todd Robinson purchased the company from Todd's dad Tom Robinson."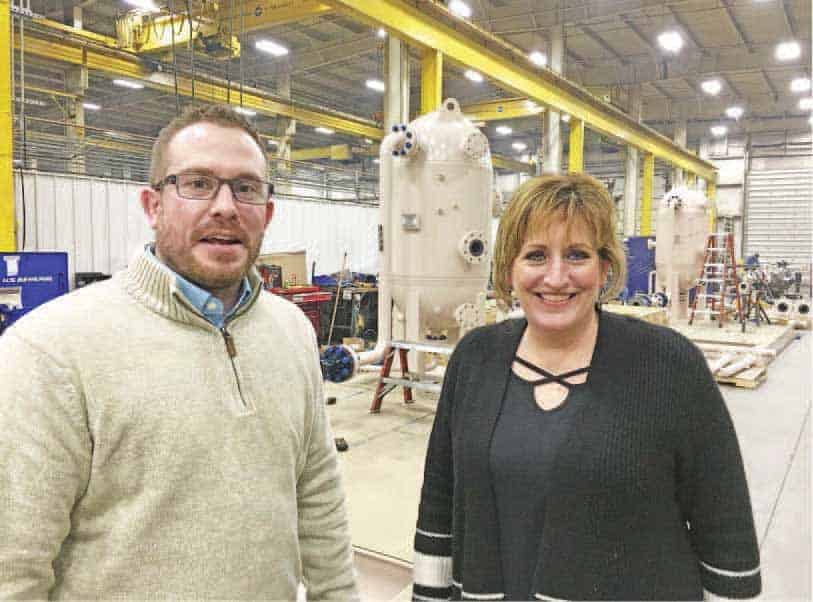 In 2000, Robinson Metal moved from Hudson Street to its current location on Eisenhower Road, which has 220,000 square feet of workspace. Recently, it expanded their facilities. "In the last 10 months, we added  two new divisions and then moved into a satellite facility in Manitowoc," Thomas said.
Robinson Metal now has six divisions within the company: Robinson Fab & Machine, Robinson Pipe & Vessel, Robinson Custom Enclosures, Robinson Heating & Cooling, Product Handling Concepts, and Gas Trailer.
The combination of these divisions allows customers to have all their needs met under one roof. "By having a fully integrated machine shop within our building and then coupling the other divisions around it, we've really become a turnkey, one-stop shop versus going to someone who is really good at fab, but they can't machine, so they have to out-source,' Thomas said. "Our fab machine division allows us to get  into  the door with a lot of our customers and then find (other) opportunities.
With the goal of becoming a do-it-all manufacturing business, the addition of Product Handling Concepts to the Robinson Metal family made sense.
"They had the engineering and the thought process and dreaming up, and we were the ones that were manufacturing it," Thomas said. "We felt it was a good  fit because Robinson didn't at the time have a  really large arsenal of engineering capability."
"Being able to add the engineering side where someone comes to us or a company comes to us with an idea of, 'Hey I want to be able to automatically move this box out of this freezer and do this and this and this, then it ends up packaged in a nice little Saran-wrapped package at the end, but I don't want  anybody to  touch it.' Now, a customer can come to us with that idea, we can provide them with the solution, engineer it, put it through production, make it, do the install and service, and provide the aftermarket parts right here in our shop."
The recent expansions led to an increase  in revenue for Robinson Metal and also recognition from the manufacturing industry as a whole.  On  February 21, at the 31st annual Celebration of Manufacturing Excellence, Robinson Metal received the Wisconsin Manufacturer of the Year award in the large company category.
"I think one of the big things with winning the award was our growth, coupled with the economic impact in Manitowoc and also the job creation and the number of employees we've grown to," Thomas said. "We're just shy of 400 employees today. Then, from a revenue generation standpoint, two years ago  we  were at about $58 million. Last year, we did $71 million. At this point we have booked $96 million and I would bet that it's going to go over $100 million."
Clearly, the company is heading the right direction and Thomas sees the employees of Robinson Metal as the key factor. "The credit for that award goes to our team," he said. "Their ability to work with that change, roll with it and really come together as a team to accomplish something like that is an incredible accomplishment."
It's no surprise that employee satisfaction is one of the primary goals for Robinson Metal. "Forty  percent of our employees have been here more than 10 years. That's kind of unheard of in this labor market," said Robinson Metal marketing manager Lynn Jones. "Individuals have babies, anniversaries, birthdays, etc. We celebrate all those types of things, which, when you get to a company (this size) it  seems, sometimes you  lose that, but we have held onto that very strongly. Also, with owning a Packers tailgate house, some companies would only be using that for sales or new business developments, but here it's for employees and their families to also enjoy and have a hot dog or a beer or a soda next to the customer," Jones said.
Along with the hard work of their employees, Thomas sees the changing economy playing a crucial role for the company to continue to grow at its rapid rate. However, he knows a hot economy can turn cold with little notice. "One of our focuses now is to make sure we utilize this time when it is hot to make contacts and stay focused on our diversification," he said. " We are getting out there and adding new contacts and customers and really showcasing what our overall capabilities are and using that whole one-stop shop philosophy to get our customers to understand you can vet us once knowing this product is never going to leave our shop. You have one single point of accountability to make sure it's done right and it's done on time. You know the cost. There aren't any surprises. We told you we would build it for this. I think that definitely gives us a leg up on a lot of the competition for sure in the Midwest, but I would argue across the country."